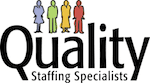 Director/DP: Jonathan Weiner
Gaffer/Grip by: Brent Goodroe
Sound & PA by: Leo Munday
Make-Up by: Michelle Lee
Quality Staffing Specialists hired us to produce an applicant interviewing tips video.  We used a professional actress with a flight attendant style delivery.
"Jonathan's expertise and creativity with Digital Media & Marketing has really benefited staffing & recruiting firms all across North America. His process and passion make it fun not to mention that his company delivers faster than anyone we know."
-Kara Bertoncino, CSP, Vice President, Quality Staffing Specialists