Amid the COVID-19 crisis, businesses all over the globe are adapting to new and uncharted work conditions during a blindsiding pandemic. 360 Visuals is exercising the necessary preventive health measures and precautions in order to keep our team and clients safe. While we have never been in this position before, we are committed to conducting business in the smoothest and safest way possible. We even have a COVID-19 certification from Safe Sets International for the Film and Video Production Industry to prove it.
Since a large part of our work contributions require in-person experience, we are continuing to work under aggressive safety concerns. Below are just a few ways we are creating a space for secure and protected opportunities for our clients.
Maintaining CDC Corporate Guidelines
While our procedures have been tweaked to take better care of our clients during this time, we are still churning out the same level of work, care, and quality production. Here are a few ways we're staying safe during these questionable times:
● Washing our hands with soap and water for at least 20 seconds (it's mandatory you finish singing the entirety of "Happy Birthday" before walking out on-set).
● Comfortably going overboard on hand sanitizer containing 60%+ alcohol.
● Avoiding contact with those who are sick or who have been sick in recent weeks.
● Distancing ourselves in public, following the CDC's six feet guideline.
● Wearing masks at work and encouraging our clients to do the same.
● Disinfecting objects and surfaces periodically throughout the day.
Like many, our workflow is inconclusive. However, we can proudly state we are employing every option available to keep everyone completely safe. Our highest priority is ensuring a welcoming, comfortable, and risk-free environment for everyone who wishes to collaborate.  Please keep in mind the above list of preventive measures is ever-growing. Depending on the project, we may add more layers of protection if deemed necessary. Should your team have any unique requirements or specifications before a shoot, please do not hesitate to contact us ahead of time.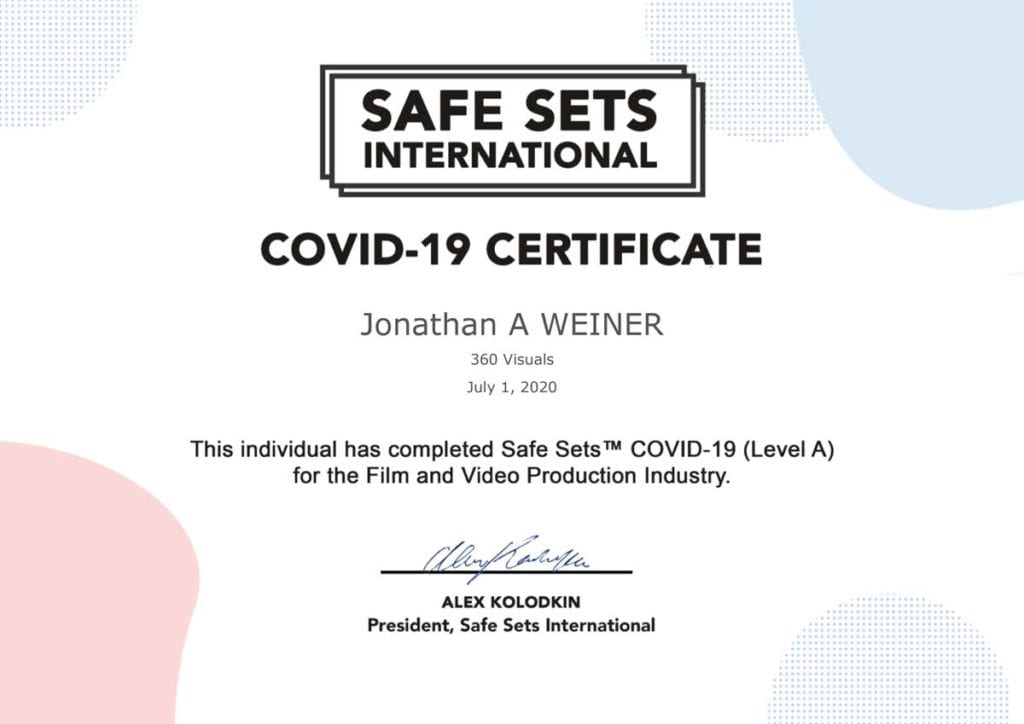 Video Production During COVID-19
For the time being, traditional video production and shoots may not be possible. Despite the complications, we've figured out a way to work under these bizarre conditions and promise a finished production of the same quality. Although it's a bummer to have to work and live this way, the reality is, the sooner we get rid of this pesky virus, the sooner 360 Visuals and others may convert to normalcy.
Here's what a COVID-19 proof production set may entail right now:
● Dedicated points of entry.
● Maximum headcount threshold. We may ask you to limit your in-person team to its bare necessities.
● Required disinfection of all gear (including equipment and vehicles) before and after each filming session.
● Minimum crew members. We're only going to bring the people who absolutely need to be at each shoot to keep the number of people in a given space to a minimum.
Additionally, we kindly ask to keep anyone on your team who has tested positive or has been exposed to anyone who has tested positive at home. While we would love to see everyone's face in attendance, we do not condone putting our health and the health of others at risk.
Our Personal Protective Equipment Approach
As we've all learned in the last few months, utilizing PPE is one of the best firewalls against COVID-19. During our in-person communications, our 360 Visuals team will be equipped with the following:
● Disposable rubber gloves.
● Protective masks.
● Hand sanitizer.
● Disinfectant spray for surfaces and equipment.
We graciously ask our clients to abide by these protocols for everyone's safety.
The Takeaway
At 360 Visuals, we are still here to carry out and organically explain your brand's story. In the end, you will still receive the exact product and visual you asked from us. We're just doing it a little differently behind the scenes for now. Luckily, we've become a team of acrobats, bending and snapping into positions we've never been in before to get the job done right.
In order to maintain and keep up with the CDC's guidelines, we will need your help in creating a safe but welcoming and creative environment. This means collaborating with us on strict and safe project plans and guidelines. We understand the exhaustion surrounding the situation, and we greatly appreciate your cooperation.
For more information, feel free to visit the COVID-19 response page or suggestions for small businesses from the CDC.  We look forward to collaborating and seeing your partially exposed faces soon.